About us
Hi there !
We are a company that believes great products begin with love, like
most beautiful things in life do. Love for pure materials and honest production, love for localism and love for craftsmanship. We are always seeking new products made with the highest standards, truckloads of creativity, tastefulness and happiness.
The reason why we do it
The pillars of kabinetofcuriosity are build around four issues that are important
to us: Certified pure, Recycled, Local heroes and Handcraft. These are things we MUST find in the products and brands we carry in our web-store. Therefore we have high standards in our mind while buying the items we offer to you as our end-customer, carefree shopping should be normal for young parents, grandparents and family, when it comes to products for our children. But nowadays with most kids textile or toys this is not common at all.
Each of our products meets at least one of these pillars and cross pillar products are what we are looking for on a daily basis.
So at kabinetofcuriosity we collect the purest treasures and display them at our store. We bring brands and products which meet our values, the most purest products on the market, preferably with production certificates, local manufactured, recycled raw materials or handmade products.
Strange name duh !
A cabinet of curiosity, also known as a "wonder room", is a room filled with all kinds of treasures. Historical or religious relics, works of arts and so on. Actually they were the first little museums. As our webstore is a collection of little treasures and since we are proud dutchies we squeezed in the K of the dutch Kabinet.
Who we actually are
Haitske according to Rick
With over 10 years of experience creating striking designs for customers across the globe, Haitske earned her credits in the textile industry. She is a formidable Mommy (the best there is actually), snowboards better than most dudes on the slopes and of course looks great while doing it.  Apart of her tasteful sense of style(ing) and eye for color and detail, she can ride her racing bike so fast it has been known to make grown men cry. She looks equally fabulous going out on the town with friends as she does the following morning in jogging pants and a big sweater (both mine).
Rick according to Haitske
More than two decade's worth of experience in graphic design is a claim Rick can proudly make. Apart of his many notable miles on his trusty Isaac racing bicycle, Rick loves his wife (me), and their(our) two darling children Rosie (named after a Bruce Springsteen song) and Oliver. Cleaning the house is actually one of the things he likes to do, in contrast to many other husbands and bearded men. He surfs...badly, but in summer is always out there trying to look like a skilled surfer real hard. He likes to smile at strangers in the street seeing what reaction that causes.
The world according to us
Let's work together to make a better and safer world for the coming generations by producing cleaner, recycling more and supporting local and handcraft artists… all of this with a big heart and a even bigger smile.
Pure love, pure products,
Carefree treasures with the highest standards, that's us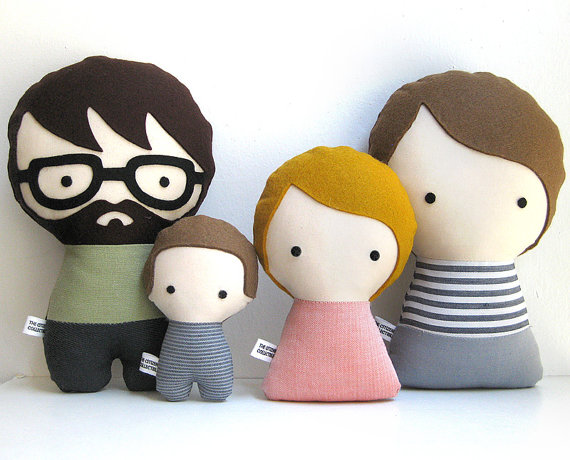 Our family trough the eyes of Liliana of Citizens collectible